It might look like a little guitar, but there is so much more to the ukulele; it is an instrument in it's own right and here's why…
We've stolen this line off a t-shirt but it's actually a bit of a misconception to think that the ukulele developed from the acoustic guitar. In reality the ukulele is descended from the Portuguese Machete, a similar looking four stringed instrument which was brought to Hawaii by sailors in the 19th Century. Over time ukulele makers have borrowed features from the guitar, but they're more like distant cousins really.
It doesn't have as many strings…
No it doesn't and even worse they're not in the right order. The ukulele has re-entrant tuning, where the strings aren't in pitch order. This quirky tuning is a feature it shares with the five string banjo and makes the ukulele perfectly suited to several banjo style playing techniques and, as a result, great for folk music. Check out our own Adam playing a banjo style tune here…
As for having only four strings, the violin, viola, cello and double bass have four strings each and it doesn't make them any less of an instrument.
To be honest we mostly hear this one from people who can strum a few chords on the guitar. Unsurprisingly, these same people find it reasonably easy to strum a few chords on the ukulele. We do find though that new learners struggle with all the same issues you find on any other instrument from changing chord shape quickly enough to playing with the correct technique. Here at The Ukulele School we have been careful when writing our complete course to ensure that we introduce new ideas at a steady pace with enough exercises and pieces to consolidate new learning before moving on.
Okay so you've got us here. Of course it's smaller but that's all part of its charm, portability, easier storage and it's own unique sound, what's not to love?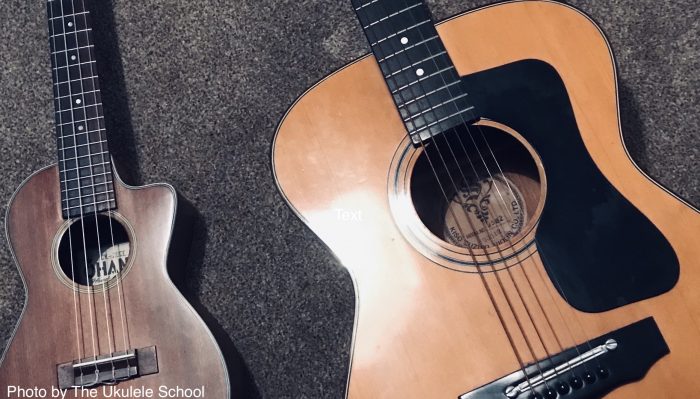 It can't play everything the guitar can…
The guitar has a wider range meaning it can play both higher and lower notes. The lack of bass notes is particularly noticeable to guitarists picking up a ukulele for the first time. However compared to a double bass, a violin is lacking in bass notes it just means that they sound great when you play them together. The ukulele is a sociable instrument; put it with other instruments or voice or even just more ukuleles and you have great playing experience.
The ukulele hasn't always been the most serious of instruments (yes, we mean George Formby) but fun isn't a bad thing and it is versatile enough to play anything from Mozart to Miley Cyrus.
More from The Ukulele School